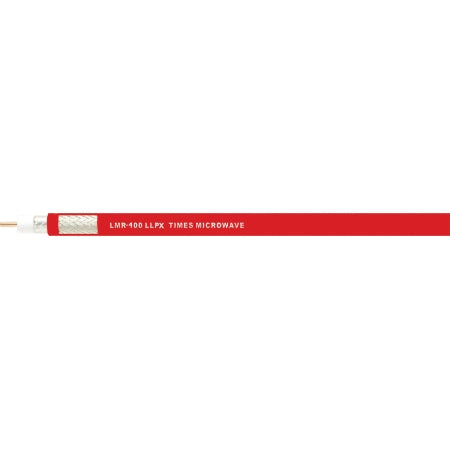 Times Microwave
Times Microwave - 3/8" LMR400 Plenum Cable - LMR-400-LLPX
---
Times Microwave - 3/8" LMR400 Plenum Cable - LMR-400-LLPX
The Times Microwave LMR-400-LLPX plenum-rated low loss coaxial cable with Red CATV-P rated jacket is an indoor, fire-retardant cable specifically designed for use in return air handling plenums. This 50 Ohm coax cable has a stranded outer conductor and bare copper center conductor. A 100 percent coverage foil, and 90 percent coverage braided shield prevents loss. It has a UL/NEC & CSA rating of 'CMP' and 'FT6' respectively.

The braided coaxial cable offers similar performance compared to corrugated copper cables but provides higher flexibility (1.25 inch bending radius) and simplified connectorization.

The Times LMR-400 plenum-rated coax cable is available in bulk and is priced per foot. The new LLPX has an extended temp range (-40C to 125C), higher power handling, advanced chemical and UV resistance, and compliance of a red jacket for public safety and in-building applications.
Cable cannot be canceled or returned once cut to length**
Loss @ 900 MHz

4.2 dB

Shield %

100% foil 90% braid

Loss @ 1000 MHz

4.39

VOP

76 %

Cable Type

LMR-400-LLPX

Sold By

per ft.

Center Conductor Diameter

.100 in

Other Spec

Red Jacket

Nominal O.D.

0.405 in

Loss @ 100 MHz

1.35 dB

Center Conductor Construction

Solid

Loss @ 400 MHz

2.74 dB

Manufacturer

Times Microwave Systems

Dielectric Insulation

PTFE

Nominal Capacitance (pF/ft)

27.0

Nominal Core O.D.

0.285"

Loss @ 50 MHz

1.00

Center Conductor Material

Copper Clad Aluminum
---
More from this collection